POV: DESIGNER.  DIFFICULTY 3.  LEVEL 4 – 1
Previously, we applied the Vlambeer Scale of Quality to Vlambeer's games. It turns out Vlambeer has been slowly increasing the score for their character action games over time, and Nuclear Throne has earned the highest score of all the games we've scored! To get a better idea of how effective the Vlambeer Scale of Quality is for measuring game feel, we have to apply it to non-Vlambeer games.
Games series that date back to the NES era tend to have lower Vlambeer Scores.
Super Mario Bros. series
Super Mario Bros. : 13

Super Mario World : 14

New Super Mario Bros. U : 16

Super Mario 3D World : 14
From 1985 to 2013 the Vlambeer Score, and therefore the look and feel, of these Mario platformers has stayed relatively stable. In fact, the scores are more consistent than with Vlambeer's games. This is likely the result of a very conscious effort from Mario's developers.
"Of course, when we were making Super Mario Bros. 3, it was important to add in lots of new elements, but I also think Super Mario Bros. has stayed popular precisely because we have preserved the original foundation."  ~ Tezuka Iwata Asks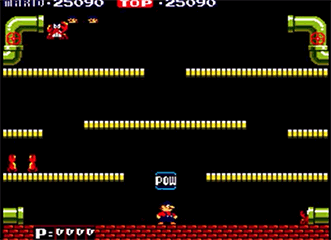 Screen Shake: The POW Block was first introduced in Mario Bros. (1983), which is the first example of screen shake in the series and, from what we can tell, in all video games. The POW Block was introduced into the side scrolling games with Super Mario Bros. 2, but was surprisingly absent from the 2D Mario platformers from then until the New Super Mario Bros. series 2006. Screen shake is often used when large enemies crash into the ground. (e.g. Super Mario Bros. 3 final Bowser battle)
Gif from Scroll Back by Itay Keren
Camera Lerp: The 2D Mario platformers use the camera design that was established in Super Mario Bros. for the NES. The camera keeps Mario oriented slightly off center so players can see what's up ahead. The camera will also accelerate to catch up to Mario when he speeds up. Camera lerp is used to smooth out the motion of the camera view. See Reblog: Scroll Back by Itay Keren for more details on camera design and terms.
Enemy Count: Since Super Mario Bros., 2D Mario platformers' challenges are a balance of overcoming level elements and and enemy elements. Enemies are mostly used as a dynamic obstacle while not being the focus. In other words, Mario gameplay is primarily about moving and jumping not enemy combat. Mario games generally don't ramp up the enemy count as the main way to increase the challenge for players. There are a few notable levels in each game that feature many more enemies than normal. Examples from New Super Mario Bros. Wii include 1-4, 4-1, 7-Tower, 7-6.
Faster Enemies: The fastest horizontally traveling enemy element in a Mario game is typically a kicked Koopa shell. Most Mario enemies move at a brisk walking pace. Mario enemies don't amp up in speed as a means of increasing challenge. This is mostly because Mario's challenge comes from the layered design combining level and enemy elements. Because enemies also interact with the level in dynamic ways (falling off platforms, destroying platforms, etc.) it works best to keep their movement relatively slow in order to give players time to react and plan their actions.
Mega Man series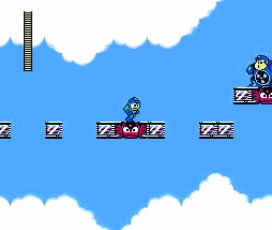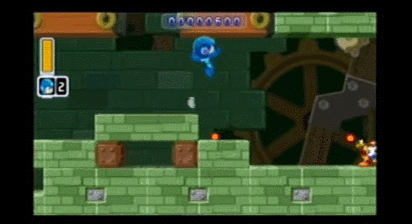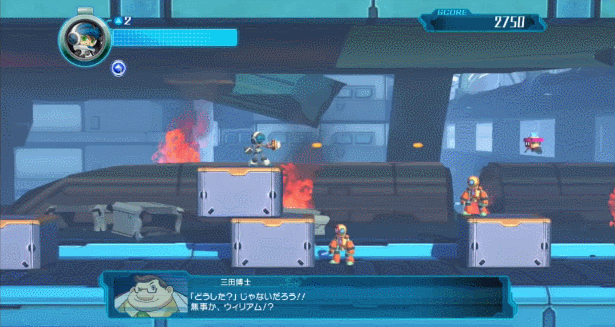 Mega Man 2 : 9

Mega Man X : 14

Mega Man Zero: 17

M

ega Man Powered Up : 12

Mighty No. 9 : 10
Mega Man, unlike Mario, has underwent various reboots and reinventions, tailoring the main character of the series to suit each generation of consoles and players. As his appearance changed from classic 1960's classic anime, to radical 90's humanoid, to Ghost In The Shell-like cyborg, Mega Man's game design also adopted the trends of the times. While Mega Man classic can only power walk, Mega Man X and Zero can dash and wall jump, mechanics that turn a steady march through robot baddies into a kinetic romp. Mega Man can only shoot. When Zero entered the series he featured his Z-Saber melee attacks along with the Capcom game feel technique of hit pause [sleep]. Every new power and movement mechanic made these games faster and more diverse while increasing the visual flare.
As the Mega Man series grew its Vlambeer score increased. It is interesting to note that Mega Man Powered Up and Mighty No. 9 are throwbacks to classic Mega Man games and scored lower because of the homage. Mega Man Powered Up for PSP translates the 8-bit Mega Man style as cute "chibi" 3D models while keeping the gameplay as close to the 8-bit games as possible. Mighty No. 9 features a new character, new mechanics, and a new graphical style, however the gameplay looks like a mix between classic Mega Man and Mega Man X.
Various Games:
Overwatch (alpha): 17

Bloodborne: 19

Splatoon: 19

Megasphere: 20

Downwell: 20

Richard says: A big take away from our examination of the Vlambeer Scale for game feel is that some points convey the Vlambeer style more than others. Lots of games have permanence, sleep, hit animations, and other effects from the Vlambeer Scale. But it's the bigger bullets, more enemies, explosions, camera lerp, and screen shake that most effectively give a game that Vlambeer game feel.
Every game has its own style. 3D games in particular achieve their game feel differently from 2D games. Bloodborne and Splatoon both scored a 19 on the Vlambeer Scale. 3D games use many of the same game feel techniques but they don't "feel" the same. Getting 3D cameras to work well for 3D games is incredibly difficult that often requires so much fine tuning that elements like screen shake and large (explosive) special effects are kept to a minimum.
Below are the points from the Vlambeer Scale of Quality that I feel are the most important to feature in a 2D action game in order of importance with a priority on creating good gameplay.
Basic Sound and Animation.

If your game doesn't have these, then it's probably not a 2D action video game.

Impact Effects

are important for communicating to the player what happens to projectiles and moving objects when they interact with other objects. This effect is usually a small pop, spark, mark that appears when bullets collide with enemies or walls.

Lower Enemy HP

works well in action games because the lower HP correlates with fewer actions needed to take the enemy out. The fewer the actions, the better players can mentally keep track of their damage over time because the value is well within our short term memory capacity. A common trope of boss design is the 3-hit-KO.

Strafing

comes in many different varieties. I love strafing in action games because it creates an asymmetric relationship between offense and movement. Being able to move and shoot at the same time at maximum effectiveness allows for simple solutions. Simply move well and shoot well. When offense comes at the expense of movement more interesting choices have to be made because there is a tradeoff between both types of actions.

Sleep

along with impact effects are very important for communicating to the player exactly when interactions take place. Impact effects alone are good for projectile interactions, but for certain collisions, like melee attacks, localized "hit pause" or global "sleep" is incredibly effective at communicating when collisions occur and seeing how the hitboxes overlap.

Hit Animation

are specific effects and animations played for when two game elements interact. The more complex the interacting elements, the more specific hit animations help communicate the game actions to the player. Look very carefully at a fighting game like Street Fighter, weak, medium, and strong hits cause characters to recoil with different animations. Also, fiery and electric attacks have a unique hit animation. The classic and perhaps most common type of hit animation is when elements flash a color (usually white).

Bigger Bullets. M

aking informed decisions while playing an action game requires the game to communicate its actions well and also to have fewer actions on the screen to consider. Along with lower enemy HP, bigger bullets help players keep track of how many projectiles they launch. This design tip applies to melee attacks and other kinds of actions. It's important to be able to count each individual action and potentially see the result of each.